https://store.underworldlive.com/col...l-limited-drop
*COWGIRL Limited Drop*
Cowgirl is a thunderstorm cracking right over our heads, creating power enough to light the night sky.

It's like weights have been cast off and inhibitions lost in a mighty, unstoppable release. It's both a possession and a conversion at once, a moment of total surrender.
The Cowgirl Limited DROP is now available in the Underworld Store, including a Limited Edition 2021 'Cowgirl' 180gsm heavyweight 12" vinyl, alongside new tees, sweats, tote bag and a reprint of the poster for Underworld's legendary 1994 London Astoria show.
All items ship 26th March 2021.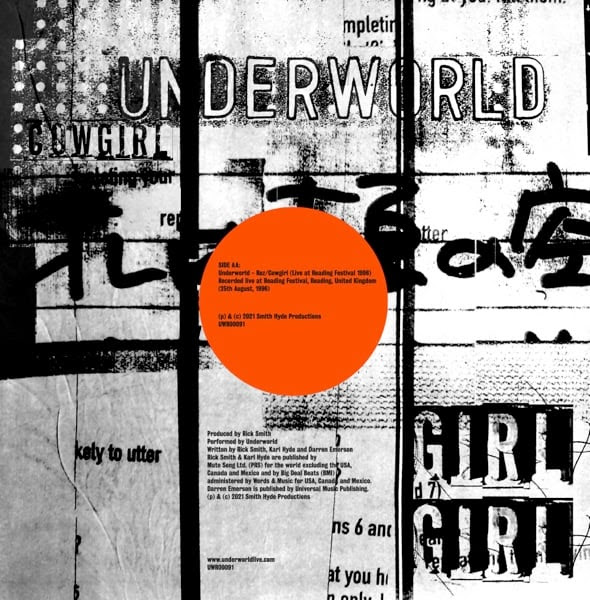 SIDE A: Underworld - Cowgirl (Remix id2 A1804)
Recorded and Mixed at Lemonworld, Romford (1993)
Sometimes, before records arrive at their perfect point - all compact, tight and bright - they're allowed to stretch their legs fully in order to explore their own perimeters. Mixes are carried out live, they journey around the edges of the mixing desk, following a note to see where it leads.
This previously unreleased version of the 1993 single Cowgirl is such an experiment in sound. Mixed live a few weeks before the final version arrived, this is an expansion of familiar sounds across nearly eighteen elastic minutes. It is both a chance to understand a working process and a killer piece of music in its own right.
SIDE AA: Underworld - Rez/Cowgirl (Live at Reading Festival 1996)
Recorded live at Reading Festival, Reading, United Kingdom (25th August, 1996)
It's the last night of the festival, still warm and the sun has just set over the site. For the crowd, it's one last push, the last gasp before reemerging in the real world the next day.
Underworld take to the stage. They're returning from a whistle stop tour round the world's forward thinking music festivals, and anticipation in the tent is already palpable; an exodus from the main stage is stretching out the edges in every direction.
By the time the band finally pause for air, the crowd are levitating. Karl has explored the upper reaches of the lighting rig like a deranged steeplejack. Condensation rains down from the top of the tent on a mesmerised audience. Rick starts to eek out a sequence of disconnected notes that slowly evolve into Rez, which in turn transforms into Cowgirl.
If on record the song's lyrics seem oblique and mysterious, in this tent they are commandments, directions, a secret language shared by singer and audience. In this moment, everyone's invisible together.